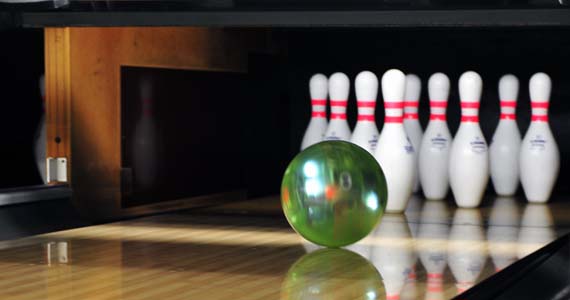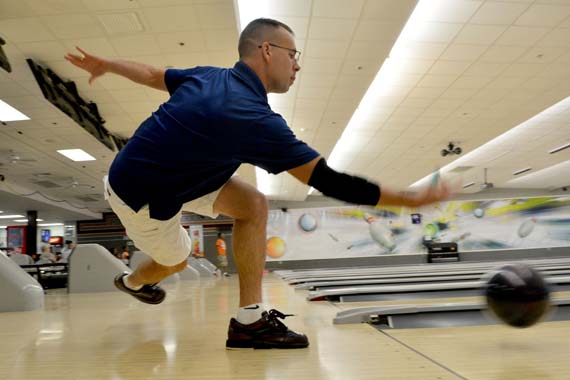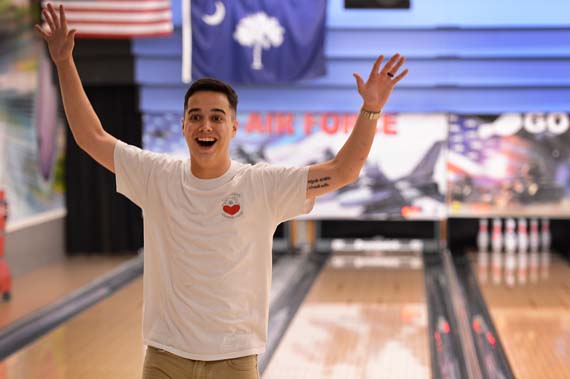 Shaw Lanes Bowling Center
The Shaw Lanes Bowling Center features 16 lanes with the absolute latest technology in lane surfaces/automatic scoring/lane conditioning equipment.
Recently added, the new HyperBowling games bring an exciting new way to bowl to Shaw Lanes! With points scored for bouncing shots off the bumpers and knocking down the pins, it's a exhilarating bowling variant for all ages!
It also offers the Cosmic Grill for dining, rental lockers, pro shop, ball drilling (by appointment only) and private party room.
Summer Hours of Operation
Monday
11 a.m. - 6 p.m.
Tuesday
11 a.m. - 6 p.m
Wednesday
11 a.m. - 6 p.m
Thursday
11 a.m. - 6 p.m.
Friday
11 a.m. - 11 p.m.
Saturday
5 p.m. - Midnight
Sunday
2 - 5 p.m.
Holiday hours vary, please call ahead.
Winter Hours of Operation & Open Bowling
Monday
10:30 a.m. - 6:00 p.m.
Tuesday
10:30 a.m. - 9 p.m

(limited lanes from 6:00-9:00 p.m.)

Wednesday
10:30 a.m. - 8:00 p.m.
Thursday
10:30 a.m. - 8:00 p.m.
Friday
10:30 a.m. - 11:00 p.m. (Friday Night Flix starts 8:30 p.m.)
Saturday
12:00 p.m. - 12:00 a.m. (limited lanes from 12:30-3:00 p.m.)
Sunday
2:00 - 5:00 p.m. (Bowl & a Movie from 2:30-4:30 p.m.)
Holiday hours vary, please call ahead.
**Hours subject to change without notice.
Shaw Lanes Bowling Center offers both the casual and ardent bowler plenty of opportunities to enjoy the sport of bowling. Throughout the year a variety of leagues are available for all skill levels and ages. Squadron morale boosters can be scheduled by contacting the Bowling Center. Birthday party packages are also available! Just check out the Party Packs tab!
Our state-of-the-art scoring stations can play almost any variation of bowling you can think of including, No-Tap, Scotch Doubles, and Low Ball. Need some assistance to bowl? We have bumpers easily accessible through the scoring station. Shaw Lanes even has a remote control bowling ball that allows everyone to experience the joys of bowling.
Every Friday and Saturday night experience the thrills and excitment of Thunder Alley! With laser light, UV, music, and fog, it's bowling and a show! Check our upcoming events below for times.
Bowlers e"X"press Pro Shop