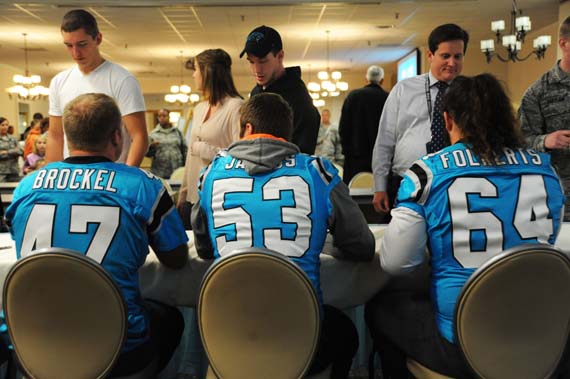 Carolina Skies Club & Conference Center
The Carolina Skies Club & Conference Center is open to all active duty members, retirees, and Department of Defense personnel assigned to Shaw AFB. Services include dining room, enlisted lounge, officers bar, party rooms, ballroom, catering, dinner specials, check cashing and a variety of entertainment.
We invite you to experience the value of club membership. When you become an Air Force Club member, the benefits are exponential! The more you visit, the more benefits you enjoy. These benefits are offered at every club worldwide.
Members-Only Programs
Dining & Catering Discounts
Social Hour Specials
Family Friendly Activities
Club Connections
Worldwide Club Access
In addition to these great benefits, Carolina Skies Club offers a FREE meal each month to club members and a spouse, daily discounts on meal purchases, social hour snacks, and much more!
How to Become an Air Force Club Member
Signing up to be a club member is easy! Even better, there is no longer a credit card requirement to join. So, no credit checks required. Sign up by visiting https://www.memberplanet.com/account/usaf.
Club Member Portal
Once you become a member, your membership is managed through memberplanet.com with an online member management system – The Club Member Portal.
Opt in to receive news about events and member specials
Choose your dues payment option
Personalized Club app
Connect with other members
Access your digital Club card – show to receive members-only discounts and for access to members-only events
Molly's Bar & Grill Menu & Specials
Event Planning and Hosting